Dzoyaxche — Yaxnic — back roads south of San Jose Tzal and from there thru Tebec — Cenote Sambulá at Pebá
This Website was inspired by our first try following the new Camino del Mayab, described on their home page (in Spanish) as "a network of more than 100 kilometers of beautiful and ancient paths with historical and natural value that you can travel through hiking or cross country cycling." We have been looking for nearby places for day hikes and were excited to find this resource.
This first trip was by car, to check out the Camino app and the map we printed from their Website. (Get the map from there or download it here.) We started from the abandoned hacienda at Dzoyaxché which unfortunately was closed despite the posted hours. Following the directions in the app, we drove to the first trailhead which is located next to the small cemetery. Sure enough, there was a trail marked by the blue logo of the Camino.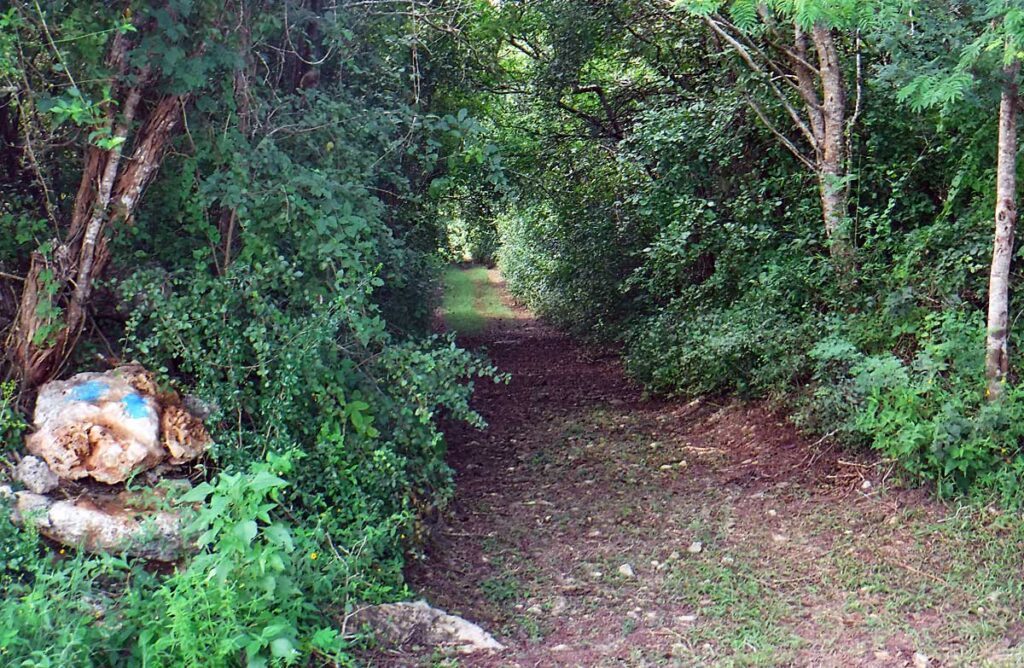 We walked just a short way and were delighted with the cool, shady greenery. But for now we returned to the car so we could find the next waypoint–the exit from this trail.
That end is in the village of Yaxnic. Once again, the app took us right to where the village street ended at the trail. (There are no markings here; it looks like the Camino only is marked in one direction.)
Our next search was for the Cenote Tebacal, and here we did not do so well. The app led us to a road that was really tough driving in our small Honda. We would call this segment from Yaxnic to the village of Pebá just fine for someone with a good mountain bike (or vehicle with good ground clearance), but not for a passenger car. And we did not find the cenote where the app said it was.
We did want to get to the cenote at Pebá, though. That would require driving north all the way back to the Merida Periferico, but what fun is that? Google Maps showed a road west towards Tebec and then the highway to Yaxcopoil, so figured that was worth a try.
This turned out to be what up north would be called a "Jeep road," far worse than the one we took south of Yaxnic. But the car handled it–slowly–and we popped out the other side onto the main highway. An easy drive took us south to Yaxcopoil, and then a left turn on a one-lane paved road to Pebá. (We did spot the place where the Camino trail pops out of the jungle.)
Pebá is certainly worth a visit; the cenote is beautiful and we had it all to ourselves much of the time.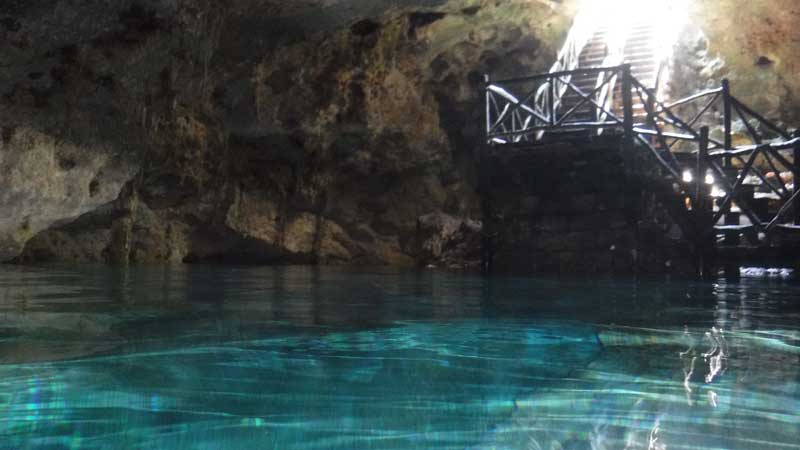 That was it for our first trip on the Camino del Mayab! But we'll be exploring more this week as we drive a bit further south. See Story 2!