Sometimes a day has a mind of its own; it takes you down its own Back Road and you just have to follow it. November 27 was a day like that.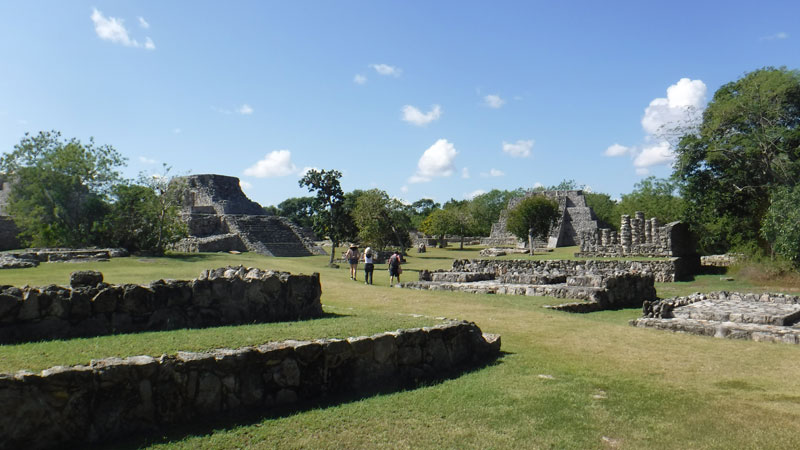 As we were driving south on the Chetumal Highway to visit Acanceh, we both suddenly got a hankering to walk around Mayapan again. I had not climbed a pyramid in a while, and one great thing about Mayapan is that practically everything that can be ascended safely is open for climbing.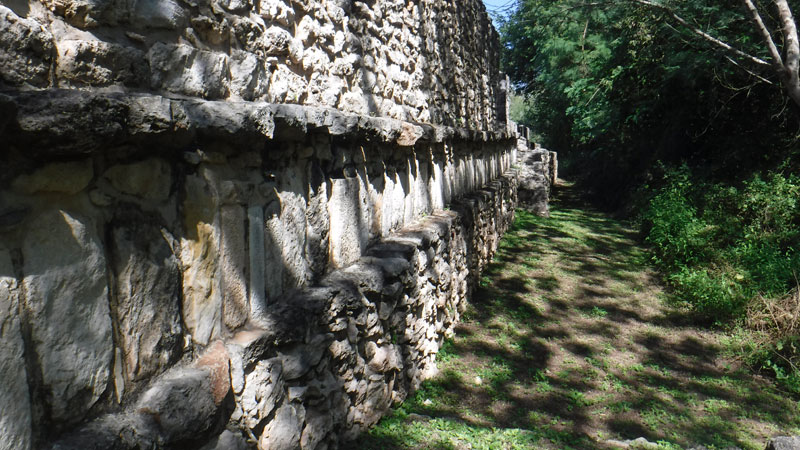 Following our new pattern for repeat visits to Maya sites, we started our visit by walking around the periphery, going behind the buildings where few people visit.
We noticed this architectural style we've not seen before; a row of square blocks framed by thin stones above and below.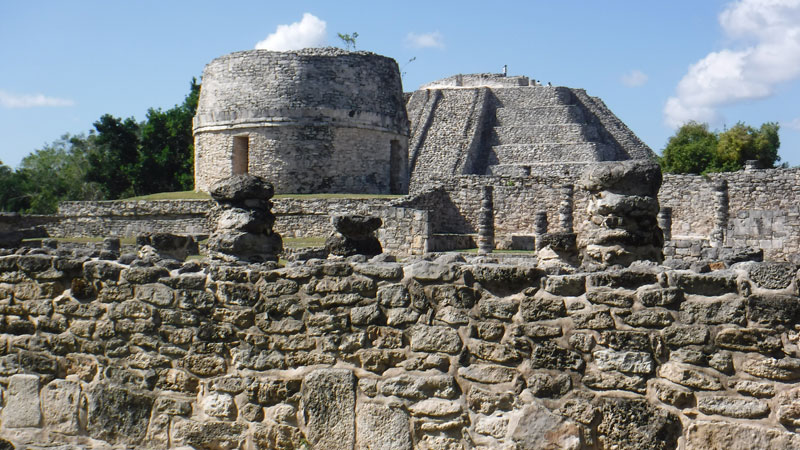 And here's a great view from just past that wall, showing the round temple (that's the only name it has) and the Pyramid of Kukulkan. (Yes, these folks were very much connected with/inspired by Chichen Itza.)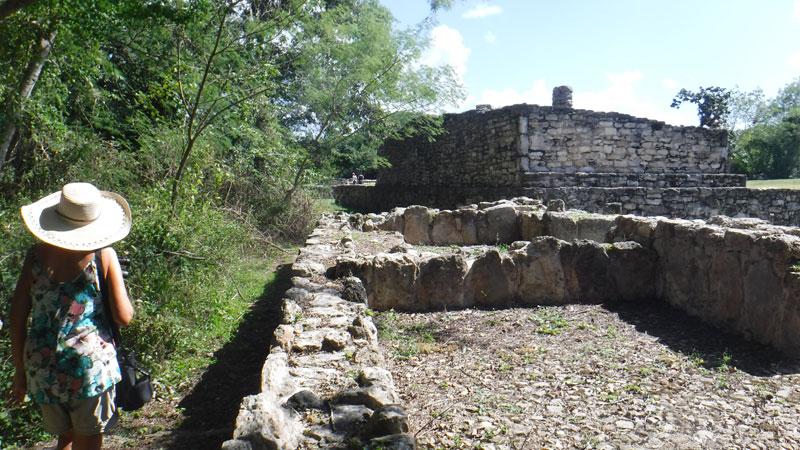 Mayapan is the first place we ever saw the beautiful Toh bird. No sightings today, but still some really beautiful birds. Here, we're looking into the trees as we walk the 1 mile boundary of the restored area.
Below are photos from the top of the Pyramid of Kukulkan, and the structure itself.
We were headed next to the Hacienda Sabacche to hopefully get some lunch. But we had time, so decided to take the scenic route. We headed south on the highway to the town of Tekit.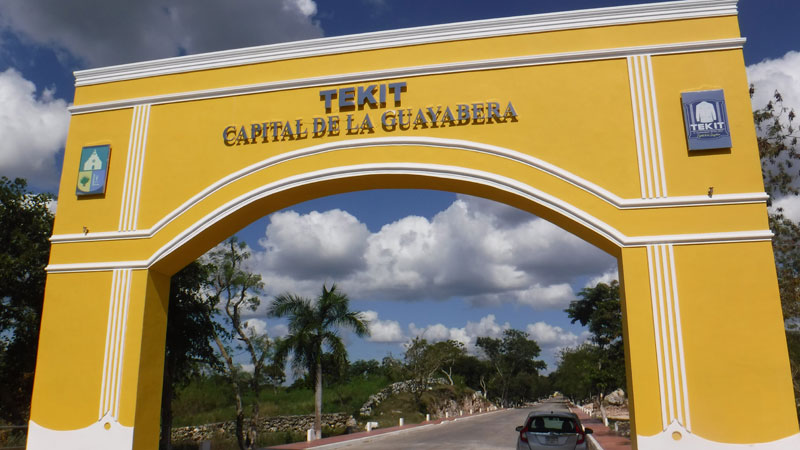 This entry arch is brand new; the wires for the lights are hanging out at the bottom. There are indeed Guayabera fabricas all over town; one brand we saw is hanging in my closet. We did not take time to stop in Tekit on this trip, but it certainly is worth a visit next time you want a new Yucatecan shirt!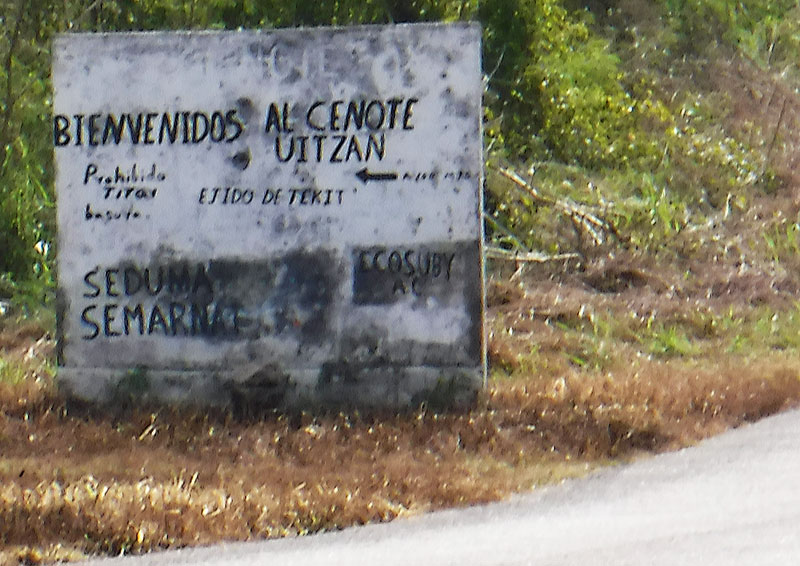 We drove north out of town to San Isidro Ochil. (This is NOT the Ochil on the road from Merida to Uxmal!) This was a one-lane paved road in pretty good condition, but someone (for some reason, it's always me) had to pull off to let an oncoming vehicle pass.
Along the way we passed this sign for Cenote Uizmal. A place to find next time; the Google Maps photos look beautiful.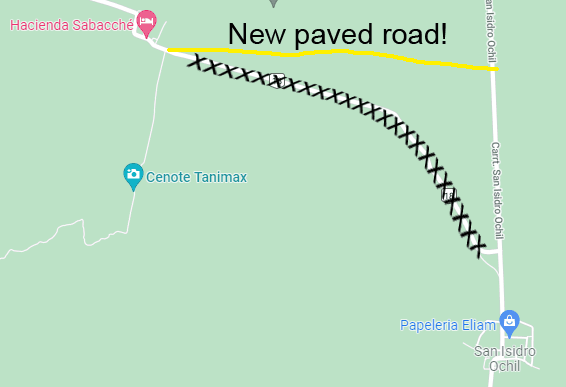 And speaking of Google Maps, this was one of those rare times when the Google gods were wrong! Driving north of of San Isidro Ochil we found the road blocked. We continued north and found a brand new, unmapped highway. The map to the left shows the abandoned old roads and the new one. (I have submitted the correction to Google.)
This will not bother you if you go to and from Sabacche via Merida. But if you want to make a loop, this is important!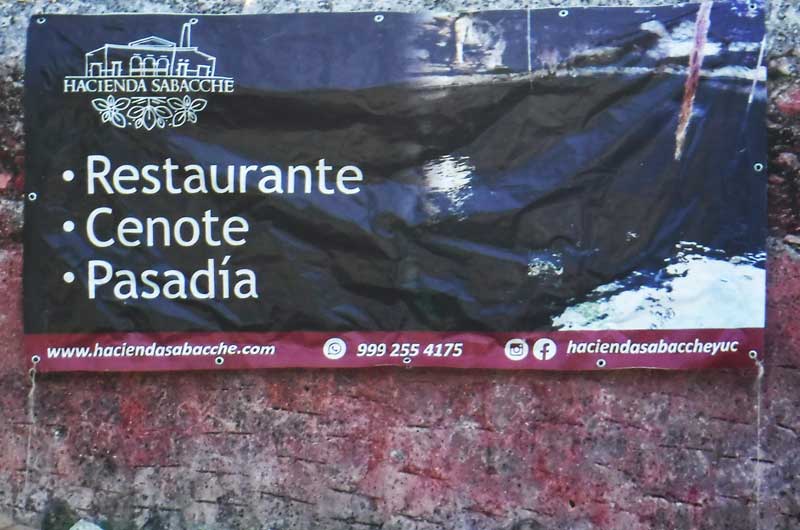 Hacienda Sabacche (sa-BAK-che) is a beautiful, partially restored place to visit. Lunch is traditional Yucateca: Sopa de Lima, a classic main dish (Panuchos, Poc Chuc), and an excellent Flan, with a drink like jamaica, horchata or water included.

Here are some photos of our visit; their Website also has many beautiful images. (Story continues below the photos.)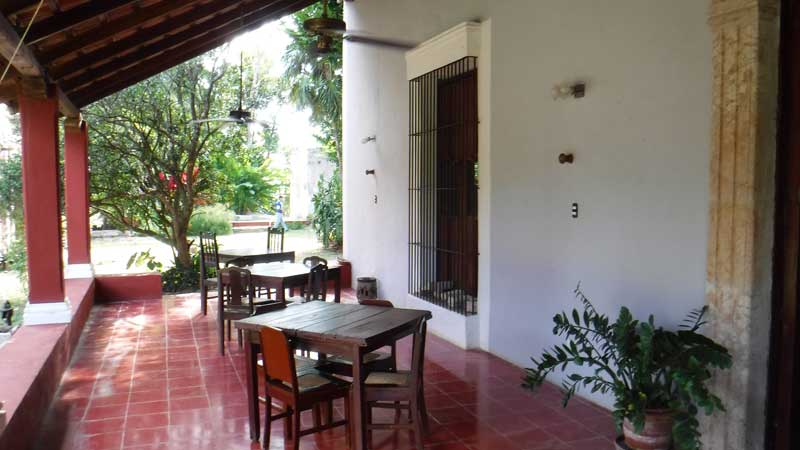 The Hacienda day pass ($490 with lunch, $250 without) gives you full access to the grounds and cenote. It also includes a tour, which is essentially a 90- to 120-minute history lesson on the origins, development and decline of the hacienda epoch in Yucatan, plus the horticulture of the site which is truly a botanical garden. The guide is incredibly knowledgeable, but the information is all in Spanish.
We understood enough to really whet our appetites to learn more about the history of the haciendas! Did you know that what really drove their phenomenal growth was the invention of the McCormick Reaper in the USA? Turns out that henequen is the absolute best fiber for binding up those big bundles of wheat that the machine turns out! Try a Web search for henequen McCormick and see what comes up.
We discussed with our bilingual host Arturo (VERY friendly and helpful throughout our visit) about them offering a shorter tour in English, or a less expensive package without the tour. Their day pass lasts from 9:30AM to 5:30PM, which is probably much more time than most extranjero visitors have for their visit. If there are any changes, we'll place them on this page and post them to the YBR Facebook group.
A 1:15 easy drive and we were back in Progreso, and looking forward to our next trip down the Back Roads.
NOTE: This route falls off the eastern edge of our MAP. Since our explorations have gone farther afield, I'll be recreating the map soon!