Nearly all of our trips so far have required driving to Merida and around the Periferico to reach the rural roads that we love. But not this amazing overnight adventure! I'll lead this story right off with the map (go clockwise).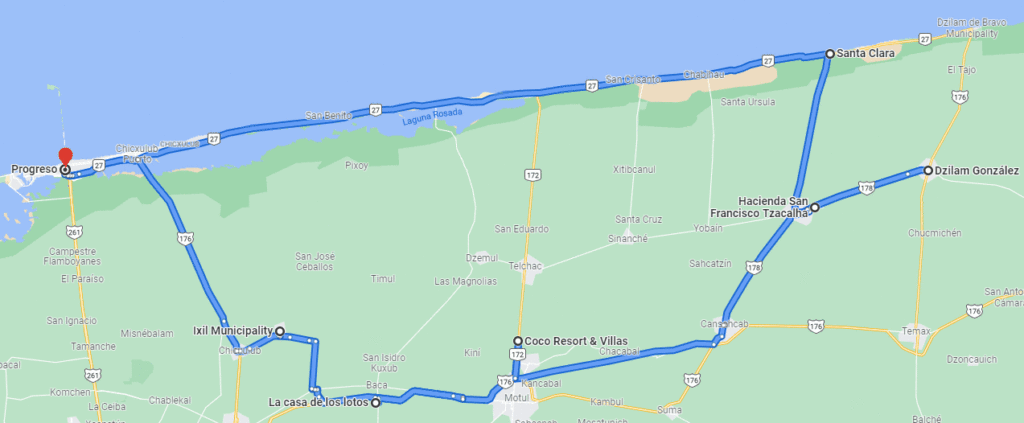 Our trip began on the coast road east, way past the huge new condo developments going up around Telchac Puerto to the fishing village of Santa Clara. A right turn and we're headed south, past many signs announcing new developments in the making. (I don't know how long this highway is going to be a back road, so you may want to make this trip sooner, not later.)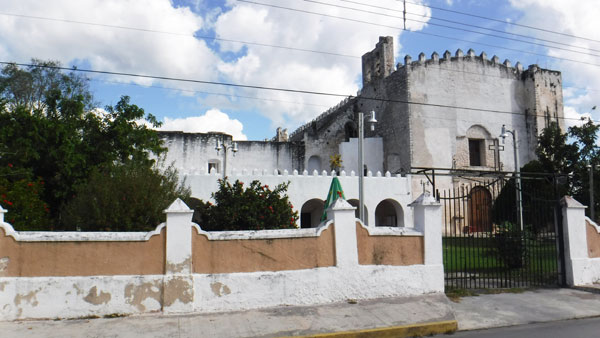 Ten minutes and we arrived in Dzidzantun. The central square was clean but not especially pretty, but we took this photo of the church. Turns out that this is the Church and Convent of Santa Clara, which has the largest nave in Latin America.
But our destination is the Hacienda San Francisco Tzacalha, which is almost a separate town tacked on to the eastern city limit. We found this place poking around Google Maps looking for a place for an overnight trip, and were intrigued by the photos and information on their Website http://hotelhdasanfrancisco.com.mx. We reserved a villa for about MX$2,400 (appx US$110) including breakfast. We arrived expecting a nice place to stay; it did not take long to realize we were in for a very special 24 hours.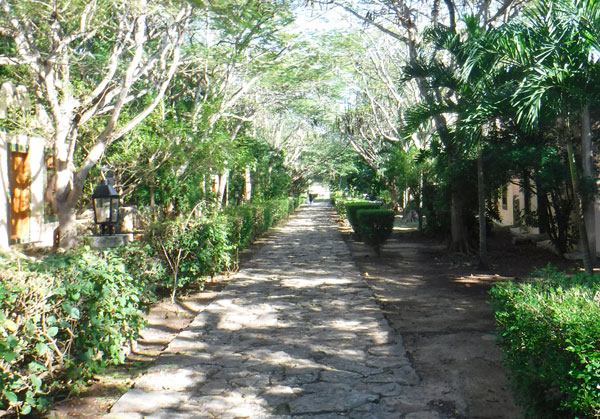 The villas are located down this long shaded path. They are of various sizes and configurations. The last one on the right is #11.
We walked in and our jaws dropped. The bedroom is huge; my estimate is about 50 square meters. There is a king bed and a double bed, along with several chairs and other furniture. It has A/C and a ceiling fan. There is also a large bathroom, a patio with sink, counter and refrigerator out back, a small dipping pool, and a huge walled back yard. (All the villas have these amenities.) I'll let photos tell the story.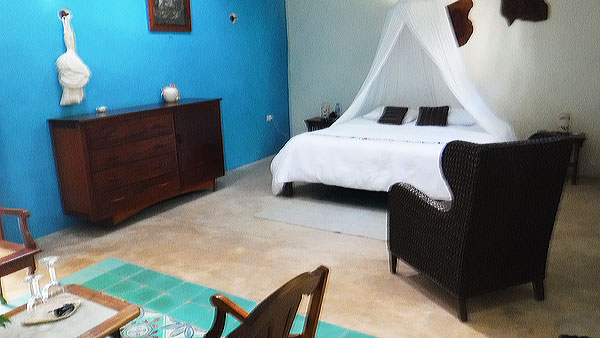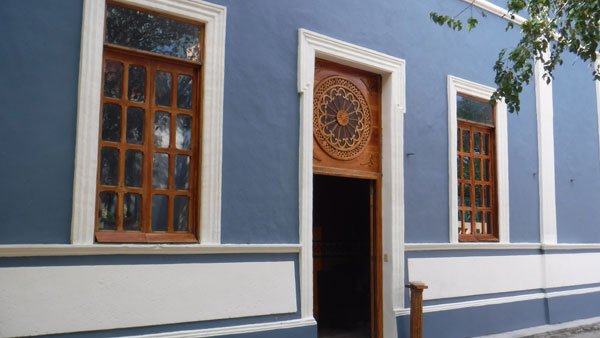 We left the villa to explore the grounds. Wandering in this open door, we were welcomed by a nice man in a black T-shirt named Mario. He invited us to explore everywhere; to feel free to walk into any open building and look around. Turns out he is hacienda owner Dr. Mario Humbero Ruz Sosa, a professor of Social Anthropology at UNAM and a renowned Maya scholar! We saw him several times during our stay, and look forward to returning for more of a conversation.
Back down the row of villas we reached the restaurant building. This original building was re-roofed with fabric over a frame which gives the light the color you see in the photo below. (It does not have that color in the evening when the Sun is not coming through the roof.) We had dinner in the restaurant that evening; they had salmon, pasta and arrachera on the menu and serve beer and wine.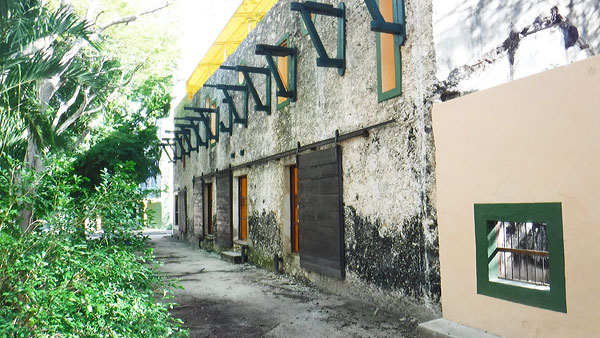 You guide yourself on your wanderings around this hacienda, which at its peak covered 9,600 acres (about 15 square miles/39 square km)! On this first walk we stayed within the central area where the many buildings are. Most have been restored (some, like the villas, are new construction). You'll keep finding surprises–watch your step as there are aqueducts and holes in floors in some of these original buildings!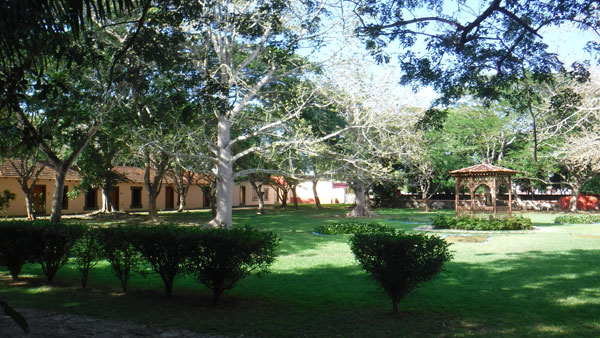 There are hundreds of species of plants on the hacienda (it's also a birdwatcher's heaven). We found this nursery of small plants including beautiful orchids.
Although the hacienda is much smaller than it was at its peak, there are still several miles of trails and dirt roads to explore, so after a very good breakfast next morning, we headed out for a hike on a hacienda road to the east. At one time, this road probably took you all the way to Dzilam Gonzalez (more on this town below); we walked it about 2km. All the way along we saw Maya-style houses, both nearly destroyed and completely renovated. We think these were original workers' housing, and that the new ones are for the same purpose; we'll find out more on our next visit (or from one of you when you go there)! We also walked around one of the huge orchards on the hacienda; these are very much in use bearing a wide variety of fruits.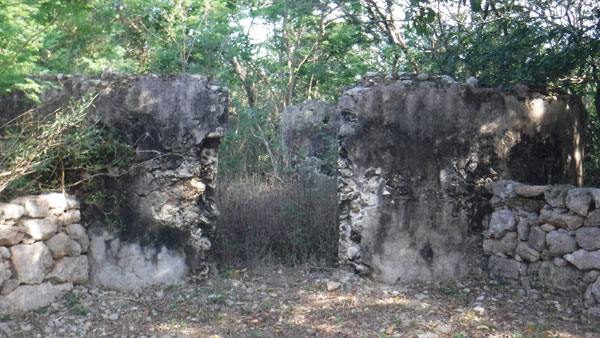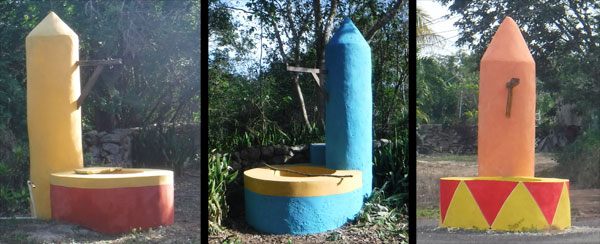 You see these ten-foot-high structures everywhere around the hacienda and the town that the original owners created. These are the access points to a network of community wells, many of which are still in use. When they were first built, a rope and pulley would have been there to draw up water; nowadays you will find a pipe and pump to feed water to the nearby homes.
As you can see, the community takes care of these historic wells, usually painting them in bright colors.
I'm not going into the fascinating history of the hacienda place on this page. The travel Website Arminas Travel http://arminastravel.ru/hacienda-san-francisco-tzacalha/ does a really fine job and is well worth a few minutes to read! Do note that it was founded in 1857 and was still in operation well into the twentieth century.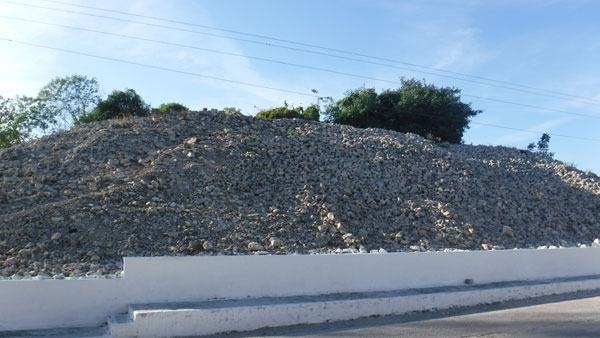 Although we did not want to leave Hacienda San Francisco Tzacalha, we had some stops to make on our way home. The first was a short drive east to the small city of Dzilam Gonzalez. Not much to say about that except for the big unrestored Maya pyramid right in the center of town. There is no clue as to how it might have looked; Mexican archaeologists don't do restorations on guesswork so this just a very large, very historic pile of rocks with a path to the top.
(We would not be surprised if it used to be much bigger; good chance thousands of stones were used to build the church across the street, and other structures as well.)
The next stop was at the Coco Resort and Villas just north of Motul. The owner had posted on Facebook that he had many banana and papaya trees and they were producing far more than they could ever use, so he invited anyone to come by and pick some. We swung in there and walked thru the property. Very beautiful place, and with a HUGE pool. (Their Facebook page is https://www.facebook.com/Yucatan-coco-104190414325619/ but shows a beachfront property which this is not; hopefully there will be some updated information there sometime soon.)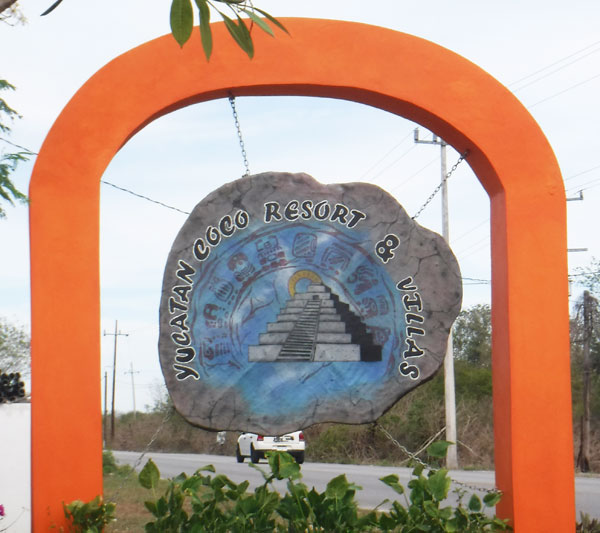 Our final stop was lunch at the Casa de los Lotos, the amazing Thai restaurant in Baca that rivals any back in California. Here's their Facebook page. We repeated something we've done on trips before: lunch at the restaurant and bring home a couple more main courses for dinner that night! Walking around their amazing water garden is always a special experience.
And that's our trip! We drove home via the villages of Too, Ixil and Chicxulub Pueblo and it takes just about an hour. A very special overnight on the back roads!