The Ruta de los Conventos is one of Yucatan's mapped tourist routes. This one takes you south of Merida on the Chetumal highway with stops at Acanceh, Tecoh, Telchaquillo, Z.A. Mayapán, Tekit, Mama, Chumayel, Teabo and Maní. We hit several of those on our two-day overnight trip just before Christmas 2021. There is a long, skinny MAP of this route at the bottom of this page.
Acanceh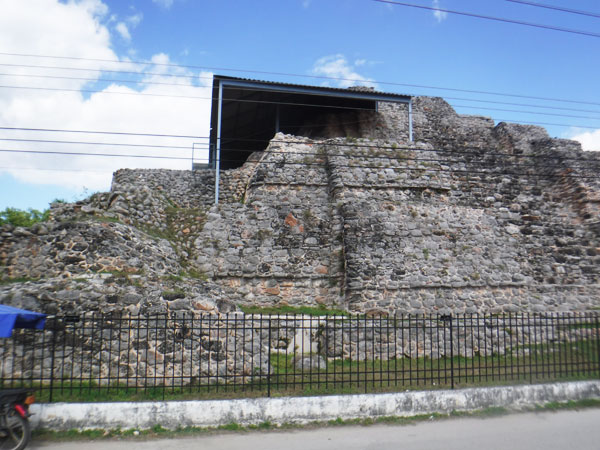 Acanceh (both c's are hard: ah-kan-KAY, a Maya word meaning roughly "lamenting deer") is a town of around 11,000 about a one-hour drive from Progreso. It is well known as the place where the central plaza has a large colonial church on one side of the main plaza, more modern buildings on two sides, and an 1800-year-old Maya pyramid on the other!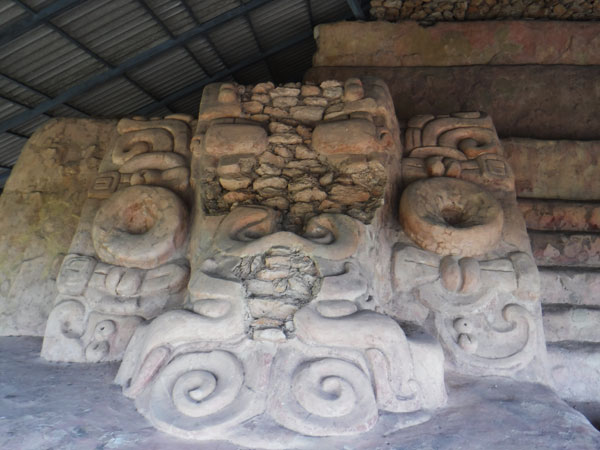 When we visited, the archaeological site was officially closed. But there is a small INAH kiosk across the street and the man staffing it said he can take us in a side entrance for 50 pesos each. (Official service? You can decide for yourself, but he did ask us not to walk on the high platform to locations where we could be seen from the main plaza. We're calling this a "worst kept secret…")
You climb the steel stairway up the pyramid to see the very well preserved large carved stucco masks. Our guide said these are the only ones of this kind anywhere in Yucatan. There also another large building you can wander around.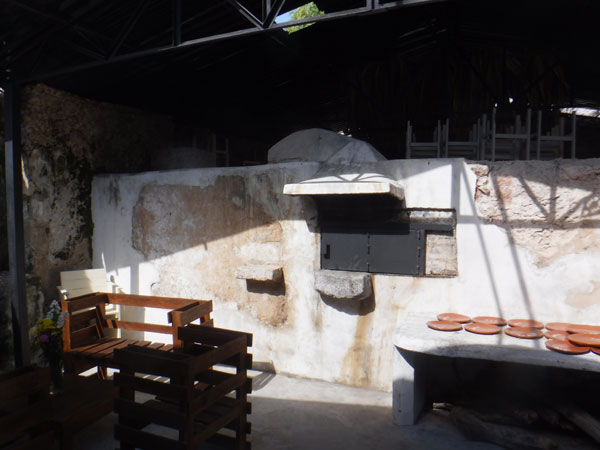 After our visit, we stopped in at the Restaurante La Reina Maya for lunch. This little place must have been built with stones left over from the pyramid reconstruction; it is literally right up against the pyramid. Although the current restaurant is quite new, this original oven is over 100 years old! And they make great cochinita pibil in a real in-ground pib.
We skipped Tecoh (been there) and stopped in Telchaquillo, but did not find that town of interest. (They do have a cenote right under the main square, but it was closed.)
Tekit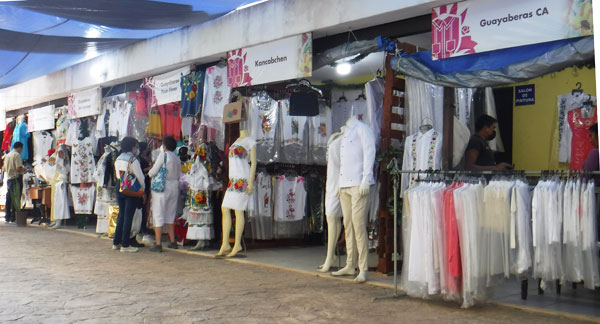 We mention Tekit briefly in Story 9 and were glad to return to the Capital of the Guayaberas. Although our intent was to park in Centro and wander thru some of the factory shops, small signs on every CFE pole directed us to the Feria de las Guayaberas, and how could we miss that? This festival features about 50 of the local designer/manufacturers of guayabera shirts and men's and ladies' embroidered clothing, and happens for 3 weeks every June and December. Prices are a fraction of what you find in Mérida.
We skipped Chumayel and Teabo for now to get to our overnight lodging in Akil before dark (on this second-shortest day of the year). Our Google route skirted the village of Tipikal (avoiding obvious pun) and city of Maní (which we'll visit tomorrow).
Akil and the Cabañas Pajaro Azul
Akil is a small city in the heart of Yucatan's citrus-growing area and just off the eastern end of the hilly Pu'uc Region. The Cabañas Pajaro Azul is just 2 blocks south of the main highway 184; there's no sign but a big wooden gate will be open if owner Patricia knows you're coming.
The property is beautiful; an open area with well spaced trees. There are 5 cabins, the smaller ones in the oval Maya hut style. Our larger cabin had two double beds with mosquito netting, A/C and a big bathroom. There is a large swimming pool, which was originally a water reservoir for the farm! If it's a hot day you'll really appreciate that. (There is no TV here–if you want video entertainment you should download it to your device before leaving home.) Patricia served us coffee and fruit on the table outside the cabin in the morning; there is a full breakfast available (80 pesos as of December 2021).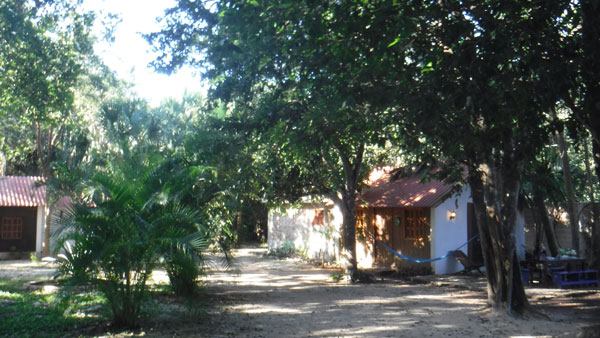 One reason for visiting Akil was Patricia's advice that there was some good hiking in the Pu'uc hills that rise just south and west of town. Her directions took us onto a well-graded back road that reminded us very much of Hawaii (all those banana trees!). We chose a place to park the car and started walking up a wide trail between two fenced fields, and soon found ourselves heading up into the forest.
This is not a hike with a destination; it's just a great feeling to be hiking in hills (call these mountains if you want). We mainly followed a barbed wire fence, keeping it in sight to our left so we wouldn't get lost. There are a couple of apiaries off the trail, but mainly you just enjoy the forest and the feeling, so rare in Yucatan, of walking up a hill!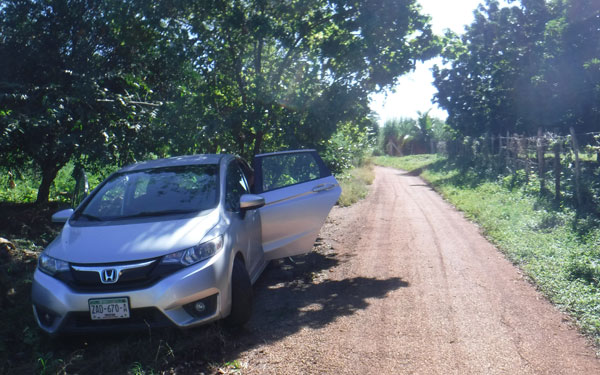 Maní
The city of Maní is one Yucatan's four Pueblos Magicos (the others are Valladolid, Izamal and Sisal). These are towns that have something special to offer visitors in beauty, culture and/or history and have made a serious commitment to providing an outstanding presentation of these attributes. In Maní you see that instantly in the beautiful and spotlessly-clean central plaza next to the huge Convento de San Miguel Arcangel. There are interesting shops in the several blocks surrounding the plaza; we can't tell you much about them because everything was closed in the midafternoon! Take note of that if you visit; come in the morning or wait until after 4PM; there must be some great places to spend the night.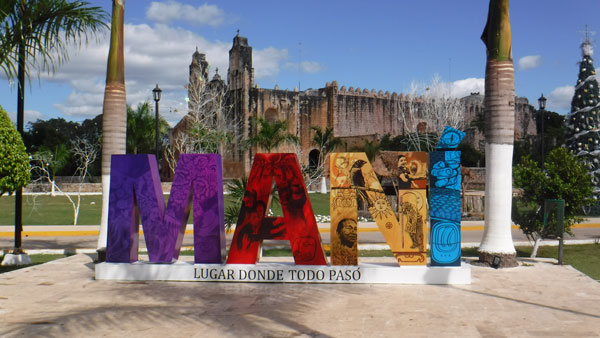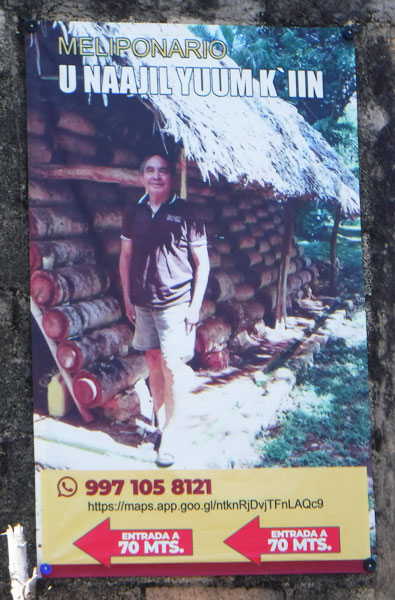 But our highlight was visiting the Meliponario U Naajil Yuum K'iin–the largest producer in Yucatan of the prized melipona honey. Google maps will take you there; you'll see a sign (shown here) hanging at the entrance on C.34. Follow the dirt road to its end; you'll see PASE UD (pase usted = come on in!) on a gate post at your left.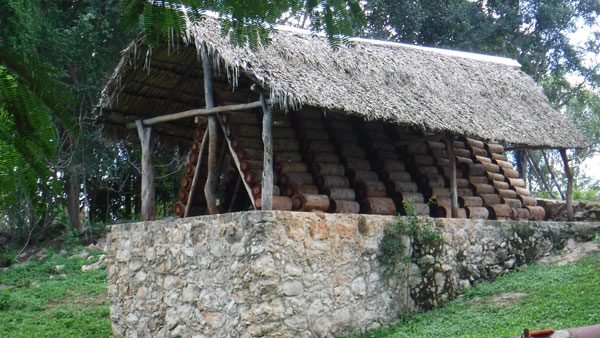 We drove in and saw several small buildings around a large open space. Owner Luis came out and greeted us, and asked if we would like a tour. We said Yes and he took us right to a strange structure with small pieces of logs stacked up in an inverted "V" under a palapa roof.
Rather than make this page way too long, we're going to put the photos with captions on Flickr instead.
Luis is not bilingual, so you are going to need someone in your party who is if you want to understand everything. But a few key points are these:
The bees really don't bother you, although they may bump into you now and then. You see in the photos how close we are; even touching them is not a problem.
The stingless "Mayan bees" were here WAY before the Maya showed up! They go back thousands of years.
But those clever Maya realized that these bees liked to make their hives in hollow logs, with just a tiny hole as an entrance. This made them easy to defend against other, more aggressive species of bees and other insects.
Beekeeping appears in the Madrid Codex, one of the three important documents not destroyed by the Spanish during the Conquest. By the way, massive burning of documents occurred right here in Maní.
A "Mayan bee" hive produces about one litre of honey a year; a small fraction of what are produced by "European" bees. That makes their honey very precious, and very expensive.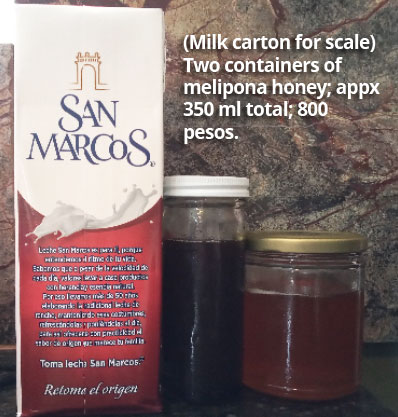 The tour is free; there is a donation box at the entrance to the little building where you can taste and purchase some honey. (There is one bottle that is too expensive to taste; that's the honey that the drones feed the queen!)
Different honeys vary in price; this photos shows you two containers totaling about 350ml (about 12 fluid ounces) for 800 pesos; about US$40.
(The Maya used this honey as medicine or ointment, or very special fortifier for royalty, especially pregnant mothers or for strength right after giving birth. I'm hoping to come up with an original glaze recipe for it; will report back.)
Mama
Our final stop before heading home was the town of Mama. (We read that the name has nothing to do with mother; the meaning of the Maya word is "denial," or just an emphatic No! since "ma" means "no" in Maya.) The Convento y Parroquia de la Asunción is imposing on the outside. Just to the north is a large walled area that one Website referred to as a garden; there's a domed building you can see from the street. A walk around the block brings you to an unsigned ruin with benches and Yucatecan confidenciales where you can take a break before heading home.
Which is what we did! 80 minutes back to Progreso, and we've finished another back roads trip!